Description
ATHEART™10 Tablet contains Atorvastatin, a lipid-lowering agent, belonging to a class of drugs called statins.
Clinical and pathological studies show that elevated plasma levels of Total Cholesterol, LDL-Cholesterol, Apolipoprotein B (Apo B) and Triglycerides promote atherosclerosis and are risk factors for developing cardiovascular disease, while increased levels of HDL-C are associated with a decreased cardiovascular risk.
ATHEART™10 is a selective, competitive inhibitor of HMG-CoA reductase, the rate-limiting enzyme that converts 3-hydroxy-3-methyl-glutaryl-coenzyme A to mevalonate, a precursor of sterols, including cholesterol. ATHEART™10 lowers plasma cholesterol and lipoprotein levels by inhibiting HMG-CoA reductase and cholesterol synthesis in the liver. ATHEART™10 also increases the number of hepatic LDL receptors on the cell-surface to enhance uptake and catabolism of LDL. ATHEART™10 produces greater reductions in LDL Cholesterol and Total Cholesterol as compared to any other statin.
In addition to cholesterol reduction, ATHEART™10 also exhibits Triglyceride lowering properties and also significantly lowers Apolipoprotein B levels. ATHEART™10 increases HDL Cholesterol levels and Apolipoprotein A1 levels. ATHEART™10 thus restores the Apo B to Apo A1 ratio. Due to all these benefits, ATHEART™10 is an all round lipid lowering agent targeted at Coronary Artery Disease.
ATHEART-10® TABLETS
(ANTI-HYPERLIPIDEMIC AGENT)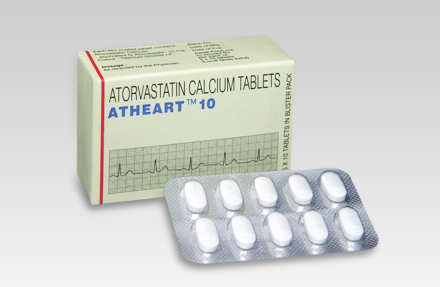 Composition

ATHEART™ 10

Atorvastatin Calcium I.P.
equivalent to Atorvastatin................................................ 10mg.
Excipients ………………………………………………........ q.s.
Colour : Titanium Dioxide I.P.