Description
Diabetes is growing in an epidemic proportion in Asian countries, particularly in India. It is associated with a host of complications, most of which could be fatal if not treated on time. Early diagnosis is, thus, a very important factor in patients who are at high risk of developing the metabolic disorder.
However, even in case of detection of diabetes at an early stage, diabetics require stringent control over their blood glucose with progression in time, thus arising the need to increase the dose and / or frequency of anti-diabetic medications. However, a high dose frequency coupled with excess tablet count; pose a threat to adherence to a long term therapy.
GLYCIPHAGE®-PG tackles the three underlying causes leading to diabetes along with providing the dose convenience with OD dosage form. Metformin in GLYCIPHAGE®-PG exerts direct beneficial effects by overcoming insulin resistance and impaired insulin secretion. Metformin in GLYCIPHAGE®-PG not only improves insulin sensitivity, but also exerts beneficial effects of the cardiovascular metabolic syndrome.
It is also found that the combination of Metformin, Pioglitazone and Glimepiride has a synergistic effect and does not affect the steady state pharmacokinetics of any of the drugs.
GLYCIPHAGE®-PG also prolongs the initiation of insulin therapy in Type 2 diabetic patients as it exerts lesser load on the pancreatic beta cells, which otherwise leads to beta cell failure.
GLYCIPHAGE-PG1® / GLYCIPHAGE-PG2® TABLETS
(ORAL ANTI-HYPERGLYCEMIC AGENT)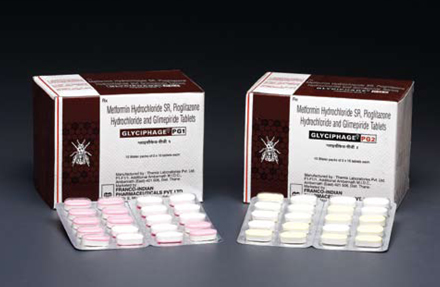 Composition

GLYCIPHAGE® - PG 1
Each uncoated bilayered tablet contains:
Metformin Hydrochloride I.P. ............................................ 500 mg.
(In sustained release form)
Pioglitazone Hydrochloride I.P
equivalent to Pioglitazone.................................................15 mg
Glimepiride I.P....................................................................1 mg.
Excipients……………………………………………….…...….q.s.
Colour : Lake of Erythrosine (C.I. No. 45430)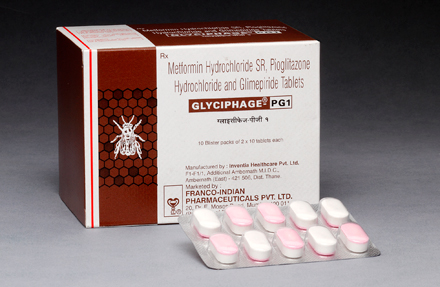 GLYCIPHAGE® - PG 2
Each uncoated bilayered tablet contains:
Metformin Hydrochloride I.P. ............................................ 500 mg.
(In sustained release form)
Pioglitazone Hydrochloride I.P
equivalent to Pioglitazone.................................................15 mg.
Glimepiride I.P.................................................................. 2 mg.
Excipients……………………………………………………….q.s.
Colour : Lake of Quinoline Yellow (C.I. No.47005)