Description
Insulin resistance and impaired insulin secretion are the two major defects in Type 2 diabetes. Recent studies have proved that when the patient is diagnosed as a diabetic (Type 2), the first phase insulin secretion is impaired. There is a tremendous load on beta cells, which may lead to beta cell failure and it is very important to preserve the precious beta cells by supplementing the patient with an insulin secretagogue in combination with an insulin sensitizer.
Glimepiride is a third generation oral blood-glucose-lowering SU (Sulphonylurea) class drug, which binds to a 65 kDa protein of the Sulphonylurea receptor (SUR 1) which is different from the 140 KDa proteins, targeted by other SUs. Because of this specificity, it has a faster rate of association and dissociation; hence it has rapid onset and prolonged duration of action, permitting once daily administration.
In addition, long-term, randomized, placebo-controlled trial shows that Glimepiride also appears to exert an extra-pancreatic effect to increase sensitivity of peripheral tissues to insulin with improved postprandial insulin/C-peptide responses and overall glycaemic control without producing clinically meaningful increases in fasting insulin/C-peptide levels.
GLEAM-1® / GLEAM-2® TABLETS
(ORAL HYPOGLYCAEMIC AGENT)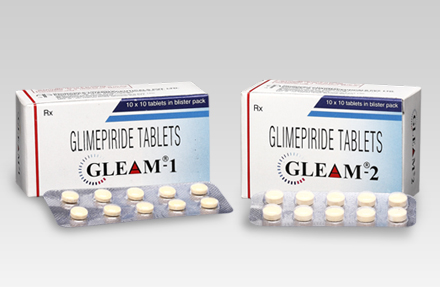 Composition

GLEAM®-1

Each uncoated tablet contains:
Glimepiride I.P.…………..................................................1 mg.
Excipient………………………………………………………...q.s.
Colour: Yellow oxide of Iron.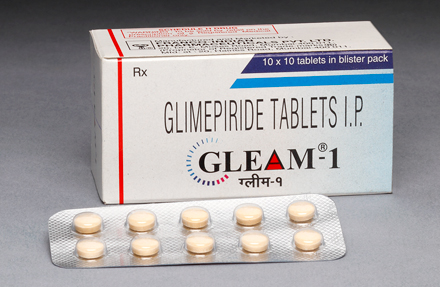 GLEAM®-2

Each uncoated tablet contains:
Glimepiride I.P.…………………………………………………. 2 mg
Excipient………………………………………………………… q.s.
Colour: Yellow oxide of Iron