Description
Obesity is the most prevalent nutritional disorder in industrialized countries. The number of people who are obese is rising rapidly throughout the world, making obesity one of the fastest developing public health problems. The World Health Organization has described the problem of obesity as a "worldwide epidemic". It is estimated that around 1 billion people worldwide are overweight, of which 300 million are clinically obese (WHO, 2003).
Obesity is strongly associated with a number of health problems including Type 2 diabetes and cardiovascular diseases.
Orlistat, a potent anti-obesity drug, is a specific and reversible long-acting inhibitor of gastrointestinal lipases. It exerts its therapeutic activity in the lumen of the stomach and small intestine by forming a covalent bond with the serine residue of the active site of gastric and pancreatic lipases. The inactivated enzyme is, thus, unable to hydrolyse dietary fat, in the form of triglycerides, into absorbable free fatty acids and monoglycerides. As undigested triglycerides are not absorbed, the resulting caloric deficit has a positive effect on the weight control.
LIPOPHAGE 60® / LIPOPHAGE 120® CAPSULES
(ANTI-OBESITY)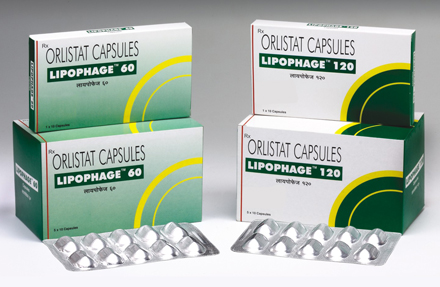 Composition

LIPOPHAGE™ 60
Each hard gelatin capsule contains :
Orlistat ………………………………………………….......…. 60 mg
Excipient ……………………………………………......…..… q.s.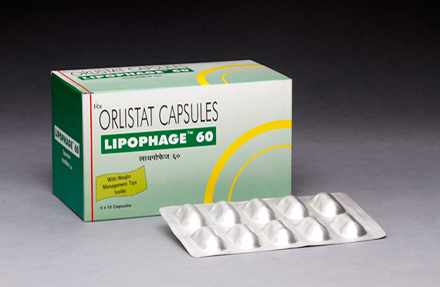 LIPOPHAGE™ 120
Each hard gelatin capsule contains :
Orlistat ………………………………………………............…120 mg
Excipient ……………………………………….....….…......… q.s.