Description
GLYPTEN™ (Teneligliptin) is a novel DPP-4 inhibitor, as it exhibits a unique structure characterized by five consecutive rings, which produce a potent and long-lasting effect.
Gliptins, commonly known as Dipeptidyl peptidase-4 (DPP-IV)inhibitors have recently emerged as a new class of antidiabetic which showed favorable results in improving glycemic control with a minimal risk of hypoglycemia and weight gain and are also being considered as a permanent eraser for type 2 diabetes. Therefore, gliptins have been a centre of research and development. As a result of the efforts made towards developing effective gliptins, the first clinical proof of concept for efficacy was confirmed in 1998 when NVP-DPP728 came into focus. Thus, from 1998 to 2014, these 17-years of the heightened research towards drug discovery have resulted in seventeen gliptins. Among these, eight gliptins are currently approved and in clinical usages for type 2 diabetes therapies, while others are in different stages of clinical trials. Since September 2012, teneligliptin has been commercially sold in Japan and has been used for the treatment of type 2 diabetes mellitus when patients do not show sufficient improvement after diet control and exercise or a combination of diet control, exercise, and sulfonylurea- or thiazolidine-class drugs.
Incretin hormones, like glucagon-like peptide-1 (GLP-1) and glucose-dependent insulinotropic polypeptide (GIP), are released from enteroendocrine cells and enhance insulin secretion. Incretins have a very short half-life (t1/2) as it is inactivated by the enzyme dipeptidyl peptidase-4 (DPP-4). DPP-4 inhibitors increase the levels of active GLP-1 and GIP by inhibiting DPP-4 enzymatic activity; thus, in patients with diabetes, these inhibitors improve hyperglycemia in a glucose-dependent manner by increasing serum insulin levels and decreasing serum glucagon levels. Hence, DPP-4 inhibitors are promising drugs in controlling glucose fluctuations in diabetic patients.
GLYPTEN® TABLETS
(ORAL ANTI-HYPERGLYCEMIC AGENT)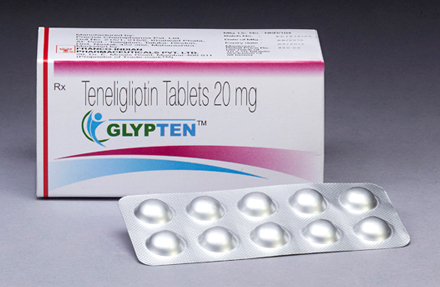 Composition

GLYPTEN™

Each film coated tablet contains:
Teneligliptin Hydrobromide Hydrate
Equivalent to Teneligliptin............................................ 20 mg
Excipients………………………………………………….…q.s.
Colour : Titanium Dioxide I.P.