Description
The two primary pathogenic factors leading to type 2 diabetes are insulin resistance and impaired insulin secretion, which arise from abnormalities within the liver, skeletal muscle and pancreatic cells.
Insulin resistance is characterized by decreased uptake and metabolism of glucose in skeletal muscle and adipose tissues and by non-inhibition of gluconeogenesis at liver. Insulin resistance causes compensatory hyperinsulinemia, as the pancreatic cells attempt to reduce hyperglycaemia. Impaired insulin sensitivity may result from defects at the level of the insulin receptors, the messenger signals, or the glucose transporter system.
Insulin resistance increases the risk of Coronary Heart Disease (CHD) as it increases plasma triglyceride levels and decreases high-density lipoprotein (HDL) cholesterol levels.
The use of drug therapy to control blood glucose levels can help prevent complications associated with type 2 diabetes. Therefore, it is conceivable that the combination of the two insulin sensitizer drugs might be superior to monotherapy in treating diabetes.
The combination of Metformin and Pioglitazone are synergistic. Metformin primarily works at the liver to reduce gluconeogenesis followed by muscle cells and adipose tissues to overcome insulin resistance, whereas Pioglitazone primarily works at the peripheral cells particularly at muscle cells and adipose tissues to overcome the insulin resistance with Metformin. Hence, GLYCIPHAGE- P® is a potent insulin sensitizer as compared to each alone.
GLYCIPHAGE - P® 7.5 TABLETS
(ORAL ANTI-HYPERGLYCEMIC AGENT)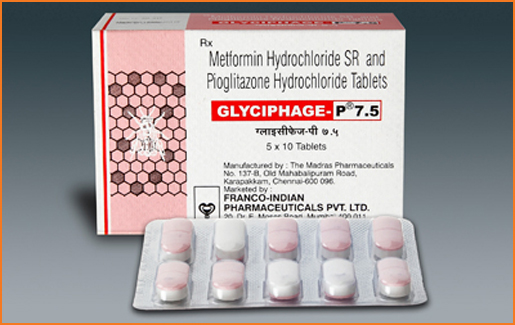 Composition

GLYCIPHAGE - P® 7.5
Each uncoated bilayered tablet contains:
Pioglitazone Hydrochloride I.P.
equivalent to Pioglitazone ............................................... 7.5 mg.
Metformin Hydrochloride I.P. ...........................................500 mg.
(In sustained release form)
Excipients………………………………………………....…… q.s.
Colour : Lake of Ponceau 4 R (C.I. No. 16255)