Description
The prevalence of Type 2 diabetes has reached epidemic proportions worldwide and especially holds true for India. Furthermore, the prevalence of insulin resistance, a major causative factor in the early development of Type 2 diabetes and an independent risk factor for cardiovascular disease and the metabolic syndrome X, is even more widespread.
POZITIV® is an insulin sensitiser belonging to the thiazolidinedione class of oral anti-diabetic agents/drugs. It depends on the presence of insulin for its mechanism of action. POZITIV® decreases insulin resistance, mainly in the periphery and to a certain extent in the liver, resulting in increased insulin-dependent glucose uptake in the muscle and adipose tissues. It also causes decreased hepatic glucose output. This leads to improved glycaemic control with no increase in endogenous insulin secretion.
POZITIV® 7.5 contains low dose of Pioglitazone, a potent thiazolidinedione that improves metabolic control. Using a low dose regimen, Pioglitazone significantly improves blood pressure and hepatic function, thus can be an effective ingredient to fight against multiple diabetic complications. The major side effect of the TZDs is weight gain, due to both increased adipose tissue mass and fluid retention. Available evidence suggests that edema is a class effect of the thiazolidinediones and is multifactorial in origin. Thiazolidinedione-associated edema seems to be dose related and occurs most frequently when thiazolidinediones are used in combination with insulin.
Options for management of thiazolidinedione-associated edema include dose reduction, drug discontinuation, and symptomatic therapy with diuretics.
POZITIV® TABLETS
(ORAL ANTI-HYPERGLYCEMIC AGENT)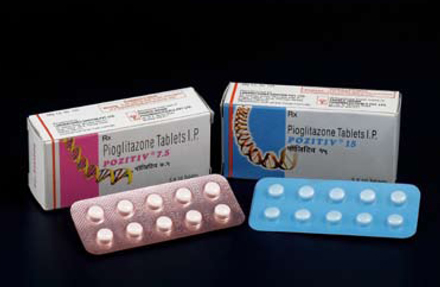 Composition

POZITIV® 7.5

Each uncoated tablet contains:
Pioglitazone Hydrochloride I.P.
equivalent to Pioglitazone.....................................................7.5 mg
Excipients…………………………………………………………q.s.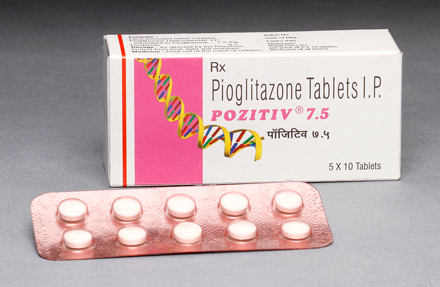 POZITIV® 15

Each uncoated tablet contains :
Pioglitazone Hydrochloride I.P.
equivalent to Pioglitazone ....................................................15 mg
Excipients…………………………………………………………q.s.