Description
Insulin resistance and impaired insulin secretion are the two major defects in Type 2 diabetes. Recent studies have proved that when the patient is diagnosed as a diabetic (Type 2), the first phase insulin secretion is impaired. There is a tremendous load on beta cells, which may lead to beta cell failure and it is very important to preserve the precious beta cells, by supplementing the patient with an insulin secretagogue in combination with insulin sensitizer.
Metformin in GLYCIPHAGE®-G FORTE, is an insulin sensitizer and exerts direct effects on the mechanisms of insulin resistance. These effects not only improve insulin sensitivity and glycaemic control with reduced insulin requirements, but also have potentially favorable effects on other components of the cardiovascular metabolic syndrome.
The action of Glimepiride in GLYCIPHAGE® -G FORTE is mainly attributed to its initial activity of stimulation of beta cell for the insulin secretion; however, it has also an insulin-mimetic effect in peripheral tissues, possibly mediated by GLUT-4 recruitment. The extra-pancreatic effects may explain lesser degree of stimulated hyperinsulinaemia.
Thus, the combination of Metformin and Glimepiride has a synergistic effect, since both agents act to improve glucose tolerance by different but complementary mechanisms. The combination improves glycaemic control, insulin sensitivity and beta cell function more effectively than treatment with Metformin or Glimepiride alone.
GLYCIPHAGE-G1 FORTE® GLYCIPHAGE-G2 FORTE® TABLETS
(ORAL ANTI-HYPERGLYCEMIC AGENT)
Composition

GLYCIPHAGE® - G1 FORTE
Each uncoated bilayered tablet contains:
Metformin Hydrochloride IP (Sustained Release)...........1000 mg.
Glimepiride I.P. ...............................................................1 mg.
Excipients …………………………………………………..…q.s.
Colour: Red Oxide of Iron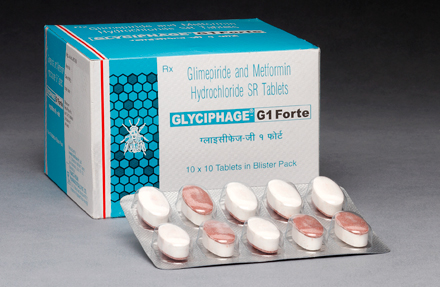 GLYCIPHAGE® - G2 FORTE

Each uncoated bilayered tablet contains:
Metformin Hydrochloride IP (Sustained Release)............1000 mg.
Glimepiride I.P. ............................................................... 2 mg.
Excipients ………………………………………………..…….q.s.
Colour: Yellow Oxide of Iron