Description
Diabetes is growing in an epidemic proportion in Asian countries, particularly in India. It is associated with a host of complications, most of which could be fatal if not treated on time. Early diagnosis is, thus, a very important factor in patients who are at high risk of developing this metabolic disorder.
However, even in case of detection of diabetes at an early stage, diabetics require stringent control over their blood glucose with progression in time, thus arising the need to increase the dose and / or frequency of anti-diabetic medications. However, a high dose frequency coupled with excess tablet count; pose a threat to adherence to a long term therapy.
GLYCIPHAGE®- LPG contains low dose of Pioglitazone, a potent thiazolidinedione that improves metabolic control. The major side effect of the TZDs is weight gain, due to both increased adipose tissue mass and fluid retention. Available evidence suggests that edema is a class effect of the thiazolidinediones and is multifactorial in origin. Thiazolidinedione-associated edema seems to be dose related and occurs most frequently when thiazolidinediones are used in combination with insulin.
Options for management thiazolidinedione-associated edema include dose reduction, drug discontinuation, and symptomatic therapy with diuretics.
Low dose Pioglitazone is not only effective in the management of hyperglycemia but also has beneficial effects on the lipid profile, with lowering of plasma triglycerides, increasing the level of high-density lipoprotein cholesterol, and decreasing small, dense LDL cholesterol.
GLYCIPHAGE® - LPG TABLETS
(ORAL HYPOGLYCAEMIC AGENT- COMBINATION)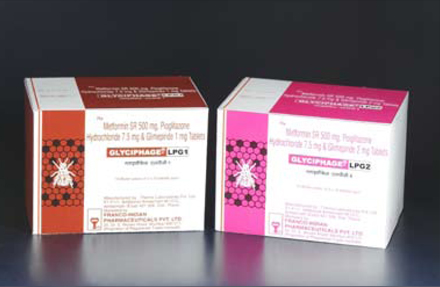 Composition

GLYCIPHAGE® - LPG 1
Each uncoated bilayered tablet contains:
Metformin Hydrochloride I.P. ..........................................500 mg.
(In sustained release form)
Pioglitazone Hydrochloride I.P
equivalent to Pioglitazone................................................7.5 mg.
Glimepiride I.P..................................................................1 mg.
Excipients ……………….................................................. q.s.
Colour: Lake of quinoline yellow (C.I.No.47005)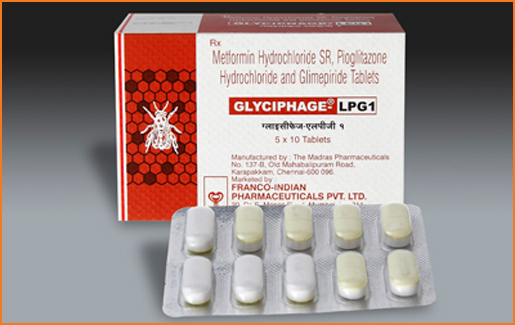 GLYCIPHAGE® - LPG 2
Each uncoated bilayered tablet contains:
Metformin Hydrochloride I.P. ...........................................500 mg.
(In sustained release form)
Pioglitazone Hydrochloride I.P
equivalent to Pioglitazone.................................................7.5 mg
Glimepiride I.P..................................................................2 mg.
Excipients ……………….................................................. q.s.
Colour: Lake of sunset yellow (C.I.No.15985)