Description
GLIDE™(Glipizide) is a second generation sulphonylurea. Substitutions on the aryl sulphonylurea nucleus have increased the hypoglycaemic activity of Glipizide 100 fold w/w over first generation drugs.
GLIDE™ (Glipizide) offers unique and unparalleled benefits, which are not offered by any other sulphonylureas. They are as follows:
GLIDE™(Glipizide) has a rapid onset of action and hence makes insulin available on demand.
GLIDE™(Glipizide) has a short duration of action, avoiding beta cell fatigue.
GLIDE™(Glipizide) is the only sulphonylurea, which is known to reduce mean muscle capillary basement width.
The fibrinolytic and antiplatelet activity of GLIDE™(Glipizide) preserves circulation and thus avoids the complications of Diabetes.
GLIDE™ TABLETS
(ORAL HYPOGLYCAEMIC AGENT)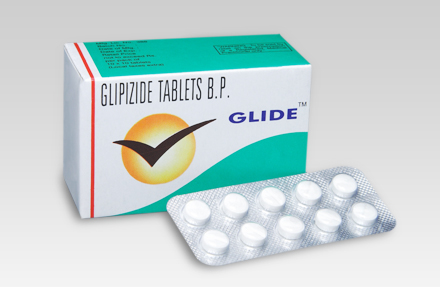 Composition

GLIDE™

Each uncoated tablet contains:
Glipizide I.P.................................................................... 5 mg
Excipients………………………………………………….…q.s.