Description
GLYCIPHAGE® is an oral antidiabetic drug belonging to the biguanide group. GLYCIPHAGE® overcomes insulin resistance and it has an extra-pancreatic peripheral action. It does not produce hypoglycaemia in normal subjects.
GLYCIPHAGE® has fibrinolytic activity which has prophylactic and therapeutic value in various vascular complications of diabetes. e.g. Coronary artery disease, cerebrovascular accidents and peripheral vascular disease.
GLYCIPHAGE® TABLETS
(ORAL HYPOGLYCAEMIC AGENT)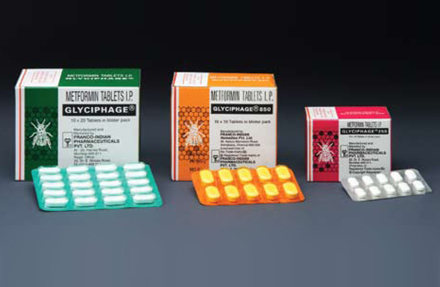 Composition

GLYCIPHAGE®
Each uncoated tablet contains :
Metformin Hydrochloride I.P. ............................................ 500 mg.
Excipients ..................................................................... q.s.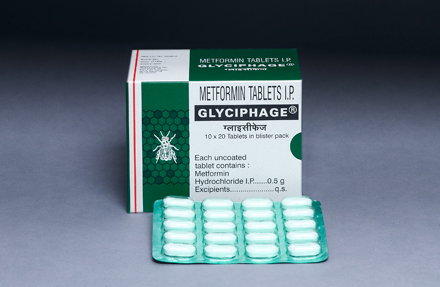 GLYCIPHAGE® 850

Each uncoated tablet contains :
Metformin Hydrochloride I.P. ............................................ 850 mg.
Excipients ..................................................................... q.s.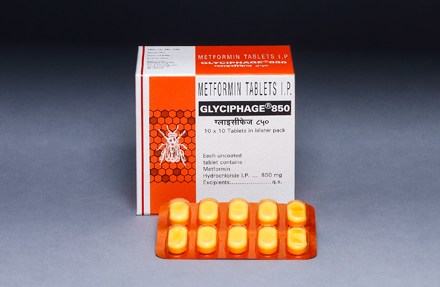 GLYCIPHAGE® 250

Each uncoated tablet contains :
Metformin Hydrochloride I.P. ............................................ 250 mg.
Excipients ..................................................................... q.s.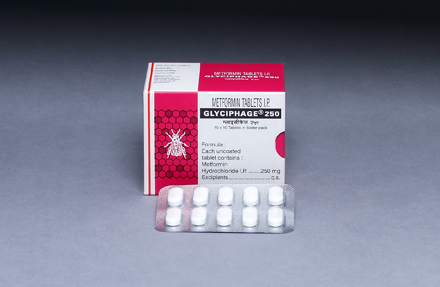 Indications
Monotherapy for adults with Type 2 Diabetes Mellitus, where non pharmacological treatment like controlled diet, weight reduction and exercise have failed to control blood sugar levels.
GLYCIPHAGE® is especially useful if the patient is obese, as it helps to reduce weight. However, there is no contraindication to the use of the drug in patients who are not overweight, as it helps to normalize weight and blood sugar levels rather than reduce it below normal.
GLYCIPHAGE® may be added as a co-prescription with Sulphonylureas, Glitazones and/or Insulin, where the latter when given alone failed to control hyperglycaemia.
In IGT/IFG.
In PCOS.
In essential hypertension.
Dosage
For the treatment of Type 2 Diabetes Mellitus uncontrolled by diet alone.
For monotherapy
Oral dosage-Adults: Initially, GLYCIPHAGE® 250 mg to 500 mg twice daily with the meal. Increase in increments of 250 mg to 500 mg weekly, as needed, upto a maximum of 3000 mg in divided doses with the meal. GLYCIPHAGE® or GLYCIPHAGE® 850 should be given for higher dosage requirement. In order to monitor the response to treatment, an estimation of blood glucose levels should be carried out at regular intervals as decided by the physician. If adequate glycaemic control is not achieved with the maximum dose of GLYCIPHAGE® (3000 mg) one of the sulphonylureas should be added and GLYCIPHAGE® continued as per requirements.
Similarly in those who do not have adequate glycaemic control with maximum dosages of Sulphonylureas or Glitazones, GLYCIPHAGE® 250 can be added and the dosage of all OHAs titrated as per individual requirements with proper blood glucose monitoring.

Elderly or debilitated patients
Same as adult dosage. Avoid use if ≥ 80 years of age, unless normal renal function is documented. In general, do not titrate to the maximum dose.

Children & Adolescents (11-16 yrs.)
Initiate dosage with GLYCIPHAGE® 250mg and titrate according to blood glucose levels.
Contraindications
Renal disease/dysfunction (Serum creatinine level ≥ 1.5 mg /dL) which may result from:
- Cardiovascular shock
- Acute myocardial infarction
- Septicemia
- Congestive heart failure requiring pharmacological treatment
Metabolic acidosis (acute/chronic).
Diabetic ketoacidosis.
Do not use Metformin in patients who have known Metformin hypersensitivity.
Use Metformin with caution in the elderly. Metformin is substantially excreted by the kidney and the risk of adverse reactions is greater in patients with reduced renal function. Because aging is associated with decline in renal function, care should be taken with dose selection and titrations.
Side Effects
GLYCIPHAGE® is usually well-tolerated. The most common side effect is minor gastrointestinal disturbance, which is often self-limiting or minimized by lowering the dose. In patients with metabolic acidosis, even if there is no evidence of ketoacidosis as yet, GLYCIPHAGE® must be stopped and the condition treated as a medical emergency.
Drug Interactions
Caution and monitoring is recommended when Metformin is prescribed with Amiloride, Cimetidine, Digoxin, Morphine, Procainamide, Quinidine, Ranitidine or Vancomycin.
Metformin may result in suboptimal oral Vitamin B12 absorption.
Nifedepine enhances the absorption of Metformin by 20%.
Decrease the dosage when administered with Captopril or Enalapril.
Diabetic patients should be monitored closely when prescribed with thiazides.
Patients receiving estrogens, progestins or oral contraceptives, phenytoin, quinolones should be closely monitored for loss of diabetic control when therapy is instituted or discontinued.
Precautions
Regular monitoring of renal function is advised in all diabetics. GLYCIPHAGE® should be stopped 2-3 days before surgery or invasive investigations, and restarted only after normal renal function has been regained. GLYCIPHAGE® should be avoided in conditions that may cause dehydration or in patients suffering from serious infections or trauma. Patients on long term Metformin therapy should be checked yearly for signs of Vitamin B12 deficiency and frequently in those who have a tendency of malabsorption, as Metformin reduces intestinal absorption of vitamin B12 and Folic acid, though cases are rare. Adequate safety data is not available in lactation.
Presentation
GLYCIPHAGE® Tablets are available in a blister strip of 20 tablets, 10 such blister strips in a carton.
GLYCIPHAGE® 850 Tablets and GLYCIPHAGE® 250 Tablets are available in a blister strip of 10 tablets, 10 such blister strips in a carton.